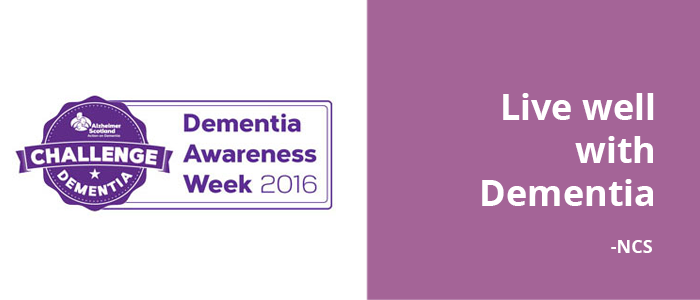 It's Dementia Awareness Week 2016 #DAW2016, running from the 30th of May until the 5th of June, and Nurse Call Solutions are delighted to support the campaign created by Alzheimer Scotland, to help raise awareness of the condition across the UK. We work with clients every day who are committed to providing quality care to patients living with Dementia in a Nursing or Came Home environment.
The Facts
---
Over 90,000 people in Scotland live with the condition
In Scotland, 76% of people know someone who lives with Dementia
There are 3,000 people in Scotland under the age of 65 living with a form of Dementia.
Alzheimer Scotland highlights that there are 5 key things to remember about Dementia, the 4th of which (and we feel is the most important), is that it is possible to Live Well With Dementia. We support carers across the country who work or live alongside those who do! Nurse Call Solutions are determined to make living with conditions, like Dementia, as comfortable and easy as possible. Our range of fall detectors and monitors provide staff with peace of mind when individuals are unattended, and our personal alarms help to increase reassurance and independence in those living more freely than patients confined to bed.
If you're a healthcare provider, loved one, or an individual living with Dementia, then please feel free to contact our team for advice on a range of technology available to assist with managing the challenges of Dementia day to day. Here are some of our customer favourites to get you started, below.
Wander Mats and Sensors
If you have concerns about the possibility of yourself or someone you know having the condition, then we recommend contacting the National Dementia Helpline on 0300 222 1122. They can provide additional support, information and advice around living with the condition.
-NCS
Source: Dementia Scotland